GMA NEWS TV AIRS THE CINE TOTOO DOCUMENTARY FESTIVAL WINNERS

For all those who missed the theater screenings of Cine Totoo, GMA News TV airs the four winning documentaries of the 1st Cine Totoo: Philippine International Documentary Festival on primetime television starting Sunday, October 26.
October 26, Sunday, 9:30 PM
"GUSTO NANG UMUWI NI JOY" (by Jan Tristan Pandy )
CINE TOTOO'S BEST DOCUMENTARY
AND AUDIENCE CHOICE AWARD WINNER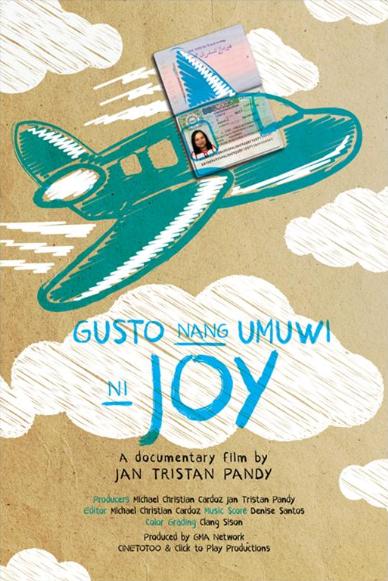 Joy is not just one of about 200,000 Filipinos living and working in the United Kingdom—she is also one of an estimated 1.1 million undocumented migrants from various countries there. Her status carries with it many risks, the greatest being the possibility of apprehension and deportation by the UK Home Office. Working as a nanny and cleaner to support her family in Batangas, Joy seeks the aid of solicitors to render her stay lawful. There is no guarantee that the Home Office will decide in her favor, however — all she can do is submit to the process and hope that her petition for legalization will be granted.
Gusto Nang Umuwi ni Joy, a film by Jan Tristan Pandy, follows Joy as she attends to her daily responsibilities, communicates with her husband and grandchildren and keeps up with Philippine current affairs and soap operas, all the while looking forward to the prospect of at last coming home to everyone and everything she has labored and endured so much for. The documentary took home not just the Best Documentary Prize from Cine Totoo, it also won the Audience Choice Award based on votes from Cine Totoo's theater patrons in Trinoma, SM Megamall and SM Manila.
November 2, Sunday, 9:30 PM
"MANANAYAW " (by Rafael Froilan)
CINE TOTOO'S SPECIAL JURY PRIZE WINNER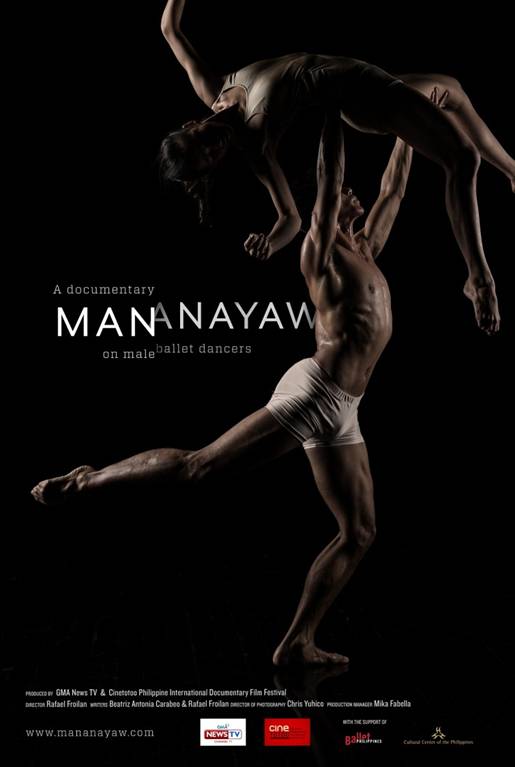 For a man in today's society, the choice to dance is a difficult one. Fatigue, societal pressure, and misconceptions abound in a dancer's life. What makes it worth it? "Mananayaw" explores this through the stories of Filipino male ballet dancers. In their lives, perseverance, passion, and the relentless search for excellence take center stage.
Rafael Froilan, son of the most famous male ballet dancer the Philippines has ever known, gives viewers an inside look into the world of danseurs. His lyrical documentary, "Mananayaw" won the Special Jury Prize Award at Cine Totoo.
November 9, Sunday, 9:45 PM
"WALANG RAPE SA BONTOK" (by Carla Samantha Ocampo)
CINE TOTOO'S SPECIAL MENTION CERTIFICATE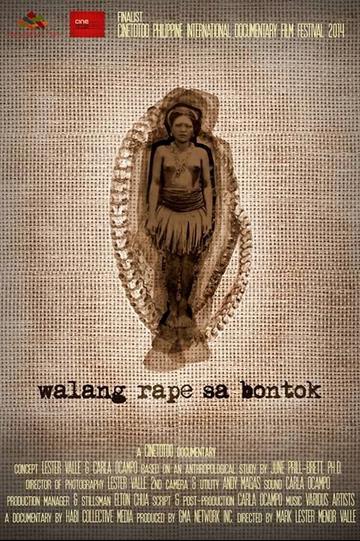 Two Filipinas, both victims of sexual abuse in varying degrees, yearn and search for a utopia where women can live without being sexually violated. By chance, they encounter a study by renowned anthropologist June Prill-Brett, Ph.D., which states that the Bontok of the Philippine Cordilleras has lived for eras without a term, nor concept, nor incidence, of rape. At last, a haven where the most heinous of gender crimes is unheard of. Or, is it?
The search centers on the municipality of Bontoc, the locus of Bontok culture. Alas, the move to completely revalidate Dr. Brett's statement is a generation too late. Oral tradition is now seldom retold, and the last generation of Bontok Igorots who have lived in the traditional ato and olog are already in their twilight years. Through judiciary archives, local government records, and the oral narratives of Bontok elders, the mission does find its holy grai. The rape-less society still exists, but only within small, close-knit Bontok communes. And it is trapped in the rapidly-fading past.
The courageous and very personal documentary "Walang Rape sa Bontok" by Carla Samantha Ocampo took home a Special Mention Certificate at this year's Cine Totoo Documentary Festival.
November 16, Sunday, 9:30 PM
"KUNG GIUNSA PAGBUHAT ANG BINISAYANG CHOPSUEY" or How to make Visayan Chopsuey (by Charliebebs Gohetia)
CINE TOTOO'S SPECIAL MENTION CERTIFICATE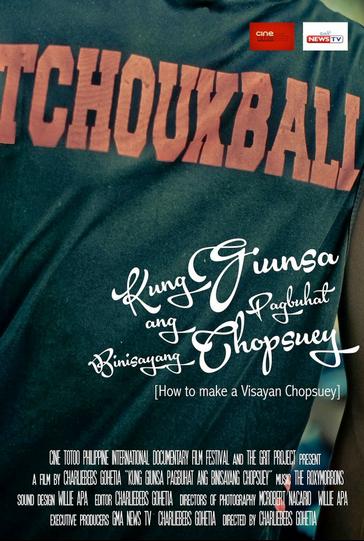 Tchoukball is a little known sport created in Switzerland in the 1970s. Tchoukball only started in the Philippines in 2010, in the City of Davao. Because of its nature as a non-contact sport and its core values of respect, good relationships and harmony among players, the sport has become a means of redemption for its unexpected players.
Davao's Tchoukball team is like a colorful Visayan chopsuey made up of former drug runners, children in conflict with the law, pastors, businessmen, out-of-school youth and homosexuals. Without many resources to keep them going, the team was able to win medals for the country in a tournament held in Vietnam in 2011. This year however is a different story.
Filmmaker Charliebebs Gohetia documents the team of Tchoukball misfits as they prepare for a competition in Taiwan … and encounter unexpected politics along the way.